H.E. Mr. Friedrich Stift Austrian Ambassador to China visited Peace Garden Museum & talked on cultural exchange cooperation
On July 29th, 2020, H.E. Mr. Friedrich Stift, Austrian Ambassador to China and Cultural Counsellor Mr. Arnold Obermayr visited Peace Garden, and held friendly talks on various cooperation opportunities with Mr. Li Ruohong, President of the China World Peace Foundation and the Beijing International Peace Culture Foundation.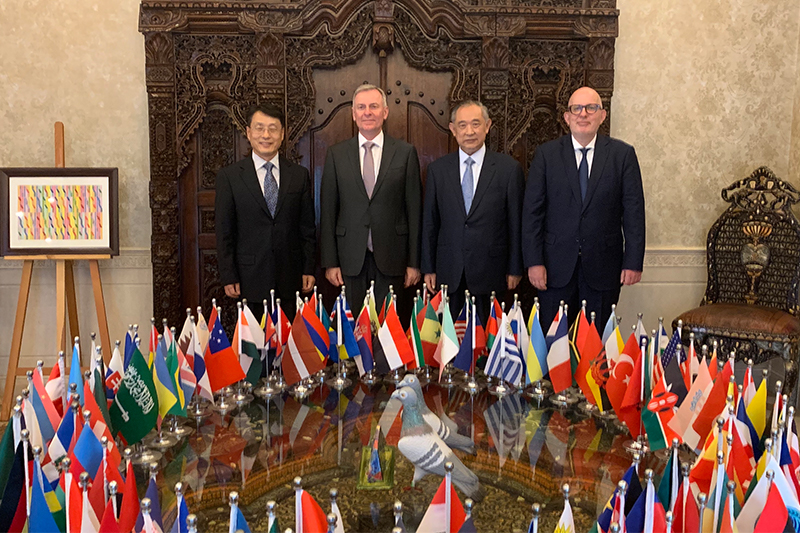 President Li introduced the concept of"Peace+1"of the Beijing International Peace Culture Foundation, its past, present and future international exchange activities, and its focus on the characteristics of the new era of public welfare that are feasible, down to earth and sustainable.
He also said: Austria is located in central Europe and plays an important role in safeguarding the stability of Europe. At the same time, it has a long history and culture, especially with many worldly-renowned musicians. We are willing to use music culture as a link to play a new chapter of peace in today's world community which is full of uncertainty and challenges.
Ambassador Mr. Friedrich Stift and Counsellor Mr. Arnold Obermayr were very impressed with the achievements of the foundation's work, highly agreed with the foundation's vision and mission, and praised its contribution to promoting international peace and development. Ambassador Stift also gladly accepted the invitation from President Li to participate in the seventh Peace Garden Peace Festival hosted by the Beijing International Peace Culture Foundation on September 21th, 2020.
Ambassador Stift has personally written a message on peace at the Peace Garden Museum: "Without peace, there is no security, no prosperity, and no progress."
He also said: In recent years, the communication and cooperation between China and Austria have been profound and thorough. In 2019, Austria, with a total population of only 9 million, received nearly 1 million Chinese tourists. At present, there are about 800 Austrian companies doing business in China. And China-Austria exchanges in academic field, especially in quantum science are also very frequent. We are surprised by China's rapid development and changes, and we are also looking forward to cooperating with China in more fields.
The two parties have determined the exchange service cooperation project between volunteers. The Austrian Overseas Service Abroad will send volunteers to the Beijing International Peace Culture Foundation to carry out "Peace+1" related projects, promote peace topics to campus, and plan other peace related activities. They agreed that it is necessary to give young volunteers more space for creativity and find projects of their interest and beneficial to promote international peace.