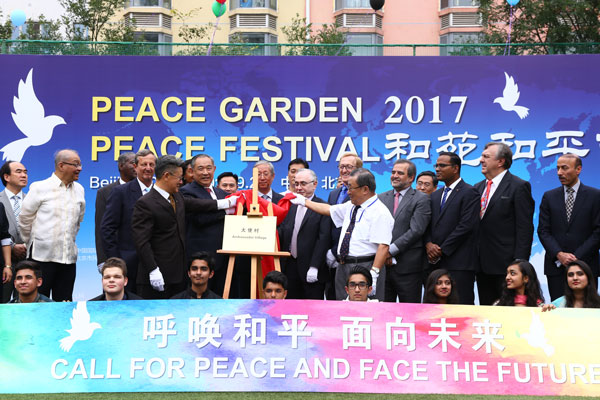 china.com.cn/chinagate.cn
The Fourth Peace Garden Peace Festival was held in Beijing on 21 September, and the Ambassador Village project was launched at the same time. Dr. Li Ruohong, Director-General of China World Peace Foundation, Mr. Sha Zukang, Former Under-Secretary-General of the United Nations, Ambassadors of Pakistan, Maldives, Qatar, Cuba, Philippines, Tunisia, Ireland, and other countries had attended the Fourth Peace Garden Peace Festival and jointly inaugurated the Ambassador Village.
The Ambassador Village is a diplomatic union co-organized by China World Peace Foundation and China Society for People's Friendship Studies. It gathers diplomatic officers in and abroad, including ambassadors of foreign countries in China and Chinese ambassadors to various countries. It devotes to promoting world peace and provides an important platform for exchanges and friendship among countries.
Since the founding of China World Peace Foundation in 2002, the Peace Garden, which is located in the third embassy area in Beijing, has received visits of heads of states and government delegations from dozens of countries and ambassadors from 190 countries. The 178 landscape stones for peace standing by the lake in the Peace Garden community are inscribed with words from heads of states, ambassadors in China, and leaders of international organizations. They symbolize friendship in the community. With this diplomatic advantage, the Ambassador Village project emerges to the proper time and conditions.
Dr. Li Ruohong, Director-General of China World Peace Foundation, said in an interview, that the Ambassador Village is expected to offer a platform for exchanges and collaboration among diplomatic personnel in and abroad and facilitate efforts against war and poverty. It encourages countries to jointly shoulder responsibilities of easing tension in the conflict zones and promoting world peace.